HomeTestimonialsMonique B.
Highway Rear-End Car Accident Attorney Review: Monique B.
Settlement: $15,000
"You Guys Were Great!"
"After my accident, I had to wake up extra early to take the bus everywhere and miss work a few times in order to make it to my doctor's appointments. I wasted a lot of time riding the bus, but I am now happy that I won't have to deal with the bus anymore since I got my settlement!
Even though my case did take some time to come to a conclusion, I am relieved that it is over and I got my settlement.
You guys were great! I was very impressed with how helpful Hallie was. She was always on top of things and had such a great attitude.
If anyone I knew got injured in an accident, I would refer your office to them."
- Monique B.
Imperial Beach, CA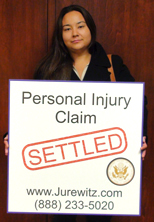 Monique B. was driving on the freeway just north of Iris Avenue when her vehicle broke down and was unable to properly get off the highway safely. A truck approaching from behind ended up crashing into her vehicle. As a result of the accident, Monique suffered with constant discomfort and pain in her legs, back, and throughout her body. Our office successfully helped Monique receive the maximum policy limit of $15,000 from the insurance company of the truck driver.