HomeTestimonialsDerrick Family
Mira Mesa Rear-End Accident Attorney Review: James, Rebecca, & Nicole D.
Settlement: $26,731.00
"We Were Protected and Taken Care of by the Jurewitz Law Group."
"We are so grateful for the Jurewitz Law Group's assistance in resolving this case.
They kept us informed throughout the entire process of our case and our calls and emails were returned in a timely manner.
We are happy knowing we were protected and taken care of by the Jurewitz Law Group and it is a BIG RELIEF to be able to move on with our lives."
Nicole D.
"I think you guys did great working on our case and I'm just glad everything is ok."
Rebecca D.
"It felt like it was very personal that they took the time to make sure we got enough information to let us know what's going on."
- Derrick Family
Syracuse, UT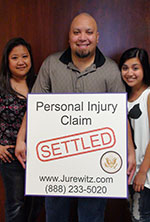 James, his wife Rebecca, daughter Nicole and granddaughter were in a minivan that was stopped in traffic when they were struck by another driver that admitted to rushing to do some errands. As a result of the collision, James, Rebecca and Nicole sustained neck, cervical, and lumbar trauma. The granddaughter suffered less trauma. Our office denied the insurance offer and successfully won the Derrick family an additional $5,231.