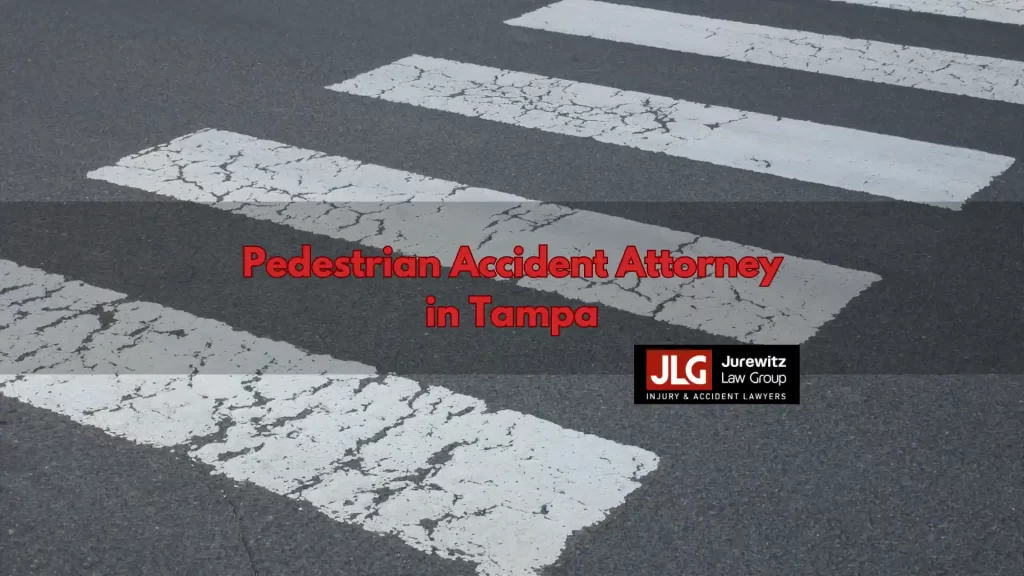 If you sustained an injury in a pedestrian accident caused by someone else's negligent actions, contact the Tampa personal injury attorneys of Jurewitz Law Group Injury & Accident Lawyers immediately to discuss your case. We might be able to represent you against the party responsible for causing the accident. We could seek compensation on your behalf to cover your medical treatment and other expenses.
Pedestrians can suffer life-threatening injuries in collisions involving cars and trucks. Many drivers ignore foot traffic or break laws that give pedestrians the right of way. There's a higher likelihood of death in pedestrian accidents. Unlike the occupants of motor vehicles, pedestrians don't have the protection of an enclosed car, airbag, or seatbelt. With nothing to soften the blow of the impact, the body experiences violent forces and movement that can cause debilitating injuries.
Various circumstances can lead to a pedestrian being hit by a motor vehicle. Intersections and crosswalks aren't the only places pedestrian accidents occur. A driver could hit someone walking through a parking lot, on a sidewalk, or in a school zone.
Accident victims typically require emergency medical care and ongoing treatment to recover. Some people never heal and suffer long-term consequences from their permanent injuries, such as physical disability.
The Tampa pedestrian accident attorneys of Jurewitz Law Group Injury & Accident Lawyers understand the challenges you face. You could spend months or years treating your injury to restore normal range of motion, alleviate pain, and regain motor functioning. If you can't return to your job, you can't earn a living and pay for your bills. Some people end up in debt while seeking treatment for their injuries after a pedestrian accident. The financial strain is overwhelming and causes significant stress.
You don't have to face the negligent party or driver alone. Jurewitz Law Group Injury & Accident Lawyers will remain by your side and protect your rights until the end. We know how to prove fault in pedestrian accidents and pursue the maximum compensation available. When you hire us, we will be your advocate and fight for justice.
Call Jurewitz Law Group Injury & Accident Lawyers for your free consultation at (813) 605-1100 or contact us online.
Common Types of Pedestrian Accidents
Multiple types of pedestrian accidents can lead to serious injuries and fatalities. Some of those accidents include:
Parking lot accidents – Anyone walking through a parking lot could get hit by a car. An inattentive or distracted driver likely won't notice a pedestrian passing in front of their vehicle.
Hit and run accidents – A hit and run happens when a motorist flees the scene of an accident without exchanging information with other parties involved or notifying law enforcement.
Crosswalk accidents – Crosswalk accidents commonly occur when a driver doesn't pay attention to the road ahead and collides with a pedestrian already in the middle of the crosswalk.
Right-turn accidents – When a motorist approaches an intersection at a red light, they must stop before proceeding to turn right. If they don't check for pedestrians crossing the street, they could cause an accident.
Left-turn accidents – Turning left can be complicated in certain situations. If the pedestrian has a walk signal or green light, the driver must slow down and stop to allow them to walk across the road.
Backing up accidents – Backing out of a parking spot requires drivers to look behind them first. They could run over a pedestrian passing by if they back up without checking to see who or what is behind their car.
If your injury resulted from any of these types of pedestrian accidents, contact Jurewitz Law Group Injury & Accident Lawyers right now. We can review the circumstances of the crash and determine whether we can represent you in your case.
Common Causes of Pedestrian Accidents
Driver error is one of the most common contributing factors in accidents between vehicles and pedestrians. Motorists must pay attention to their surroundings and follow all traffic laws to prevent a collision. Mistakes they make could injure a pedestrian or cause fatalities.
The most common causes of pedestrian accidents include:
Failing to yield – Drivers must yield to pedestrians when necessary. A pedestrian attempting to cross the street at a crosswalk or intersection could get hit by a car if the driver doesn't stop for them.
Speeding – Driving above the speed limit or too fast for dangerous conditions can cause a motorist to lose control of their vehicle. Speeding doesn't give a driver much time to brake for pedestrians who may be in the middle of the road. There's a higher chance of death when a car crashes into a pedestrian at high speeds.
Distracted driving – Distractions include more than texting while driving. Anything that takes a driver's attention, eyes, or hands away from the task of driving can lead to an accident.
Driving under the influence – Alcohol and drugs inhibit a person's faculties. Operating a motor vehicle while under the influence prevents drivers from noticing pedestrians and reacting quickly enough to come to a complete stop before impact.
At Jurewitz Law Group Injury & Accident Lawyers, our pedestrian accident attorneys in Tampa, FL, can represent you in your case, whether your injury is minor or severe. We know how to take on insurance companies and secure significant settlements for our clients. We can gather the available evidence to prove that someone else should be liable for the accident.
Common Injuries in Pedestrian Accidents
The injuries pedestrians suffer in car accidents can be catastrophic. Some cause permanent physical damage and serious medical issues. Many victims can't resume their everyday lives immediately after an accident. Extensive rehabilitation or physical therapy is often necessary to regain function and perform routine tasks.
The most common types of injuries caused in pedestrian accidents include:
Disfigurement
Traumatic brain injury
Pelvic injuries
Spinal cord injuries
Internal injuries
Road rash
Emotional or psychological anguish
Paralysis
Loss of limb
Nerve damage
Broken bones
Pedestrian accidents are traumatic. The experience can lead to severe psychological issues. Depression is common after an injury leaves a person with disabilities or permanent scars. Post-traumatic stress disorder (PTSD) can also develop from a terrifying event.
Compensation Available for Pedestrian Accidents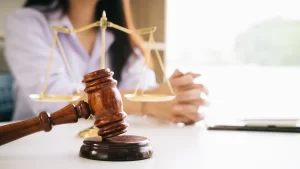 The no-fault system in Florida requires accident victims to file their insurance claims with their own insurance companies first. They can't pursue a settlement through a third-party claim unless they meet specific requirements.
Even though you weren't in a vehicle at the time of the crash, you can file a claim with your personal injury protection (PIP) carrier if you're the policyholder or are listed on the policy as an insured individual.
The minimum required PIP coverage is $10,000. You don't have to prove fault to receive compensation. Your insurance company will pay for up to 80 percent of reasonable and necessary medical costs up to your policy limit. They should also cover up to 60 percent of your lost wages if the injury causes a disability.
Since many people opt for the minimum coverage, paying for all expenses associated with a pedestrian accident is unlikely to happen using just your PIP coverage. You likely required hospitalization, surgery, prescriptions, and rehabilitation. Unfortunately, $10,000 isn't enough money to afford all your bills.
You could pursue compensation for your remaining accident-related expenses by filing a claim with the at-fault driver's liability insurance company, but only if your injury meets the serious injury threshold. That means your injury consists, in part or whole, of:
Permanent and significant loss of a vital bodily function
Permanent and significant scarring or disfigurement
A permanent injury other than disfigurement or scarring
Death
The compensation you recover from a liability insurance claim could compensate you for losses related to your injuries, such as:
Pain and suffering
Out-of-pocket expenses
Medical bills
Loss of enjoyment of life
Emotional distress
Lost wages
Lost earning capacity
Property damage
If you file a lawsuit against the negligent driver, you could seek punitive damages. To receive this type of compensation, you must show clear and convincing evidence of the defendant's gross negligence or intentional misconduct.
Pedestrian accidents can have fatal consequences. If your family member's death was due to someone else's negligence, you could recover compensation in a wrongful death case. Only the personal representative of your loved one's estate can file the lawsuit.
The compensation you receive might cover losses, such as:
Loss of wages, benefits, and earnings between the date of the accident and death
Mental pain and suffering
Loss of the deceased parent's companionship, instruction, and guidance
The value of benefits and earnings the deceased could have earned and left as part of their estate if they survived
Funeral and medical expenses paid by the estate or a family member
Loss of support and services the deceased provided
Lost protection and companionship the deceased can no longer provide to family
Statute of Limitations on Pedestrian Accidents
Florida has a statute of limitations that allows four years to file a lawsuit for injury cases. That means you must file your lawsuit within four years of the date of the crash if you want to pursue compensation from the at-fault party.
If you lost your loved one in a pedestrian accident, the statute of limitations allows a two-year period instead. That means you have two years from the date of your loved one's death to initiate your lawsuit.
Contact Us
At Jurewitz Law Group Injury & Accident Lawyers, we have a team of experienced and trusted pedestrian accident attorneys in Tampa, FL. We have a proven track record of success and an excellent reputation within the legal community. We will use our resources to build a strong case and try to reach your desired outcome.
If you sustained an injury in a pedestrian accident due to someone else's negligence, call Jurewitz Law Group Injury & Accident Lawyers at (813) 605-1100 for your free consultation and learn more about your available legal options.