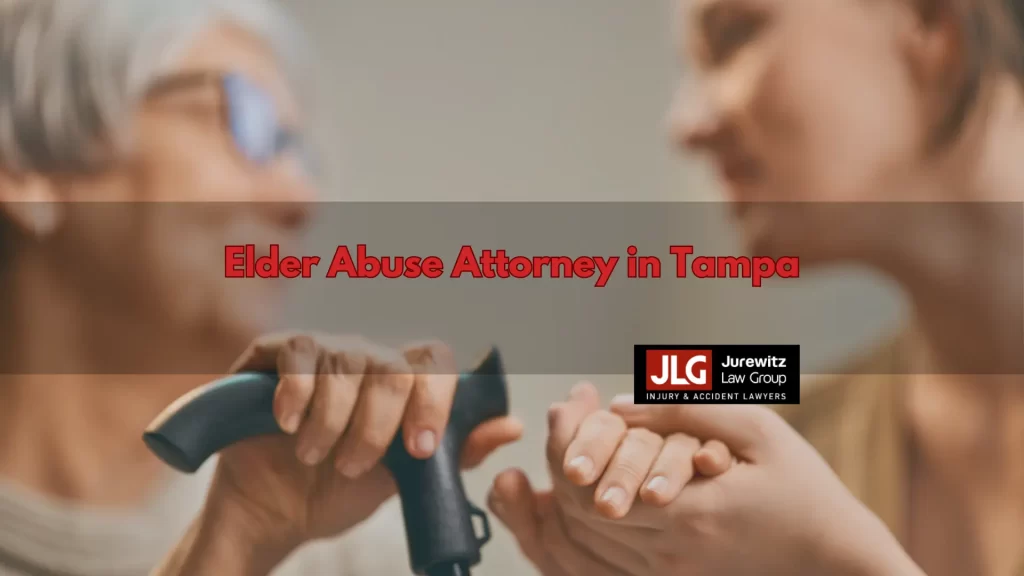 If you suspect your loved one's injuries are due to abuse by a caretaker, contact the Tampa personal injury lawyers of Jurewitz Law Group Injury & Accident Lawyers today. We can investigate the incident and determine whether someone should be liable for the resulting medical treatment and other expenses. Your loved one might be entitled to compensation for the suffering they endured.
The Americans with Disabilities Act (ADA) protects people with permanent disabilities from abuse, neglect, or discrimination. The elderly are vulnerable to abuse and neglect, especially if they depend on others to care for them. Abuse often takes place in community settings, such as nursing homes and assisted living facilities.
Older adults can sustain severe injuries during instances of abuse. Many are frail and can't protect themselves during an attack. Others have cognitive disabilities and can't remember what happened to them, so the abuse goes unreported.
The Tampa elder abuse attorneys of Jurewitz Law Group Injury & Accident Lawyers know how devastating it is when you find out someone you thought you could trust took advantage of your loved one and caused an injury. Elder abuse is a serious problem that endangers the lives and safety of disabled and dependent adults throughout the United States.
Unfortunately, pursuing legal action against an abuser isn't possible for some elderly individuals. Your loved one might not have the mental capacity to deal with the legal aspects of a case. However, you have a right to hold the at-fault party liable for their actions and pursue the maximum available compensation on your loved one's behalf. We can advocate for your relative's rights and fight for the justice they deserve. Our legal team is ready to represent them against the negligent facility or person responsible for injuring them.
At Jurewitz Law Group Injury & Accident Lawyers, we have represented injured clients and their families since 2007. When you hire us, we can take over the process so you can focus on getting your loved one the treatment they need. We will complete all necessary forms, gather evidence, and negotiate a settlement with the insurance company. If settlement negotiations fail, we have the resources to file a lawsuit and take the case to court.
For a free consultation to learn more about your available legal options after a loved one's abuse, call Jurewitz Law Group Injury & Accident Lawyers at (813) 605-1100 today.
Common Types of Elder Abuse
Elder abuse refers to a caregiver's negligent, intentional, or knowing act that harms a vulnerable adult or causes a serious risk of harm. Multiple types of abuse can occur. The most common types include:
Physical abuse – Physical abuse involves a caretaker using physical force to inflict injury or pain on an elderly individual.
Financial exploitation – Financial abuse and exploitation happen when someone who has been entrusted with an older adult's assets uses the elder's personal property, money, or other assets illegally or improperly.
Sexual abuse – Sexual abuse refers to a person using force, threats, or coercion to engage in unwanted and nonconsensual sexual acts with an elderly person.
Neglect – It is considered neglect when a caregiver refuses or fails to uphold their duties and obligations to provide basic needs, such as food and water, to a dependent adult.
Self-neglect – Self-neglect results from an older person placing their safety and life at risk by failing to perform essential tasks to care for themselves. Staff should not allow this to occur.
Emotional abuse – Emotional abuse involves someone's verbal and nonverbal actions to cause an older adult mental distress, anguish, or pain.
Abandonment – Abandonment occurs when the person assuming the role of caretaker deserts the elderly individual.
Unfortunately, accidents are a part of everyday life. Sometimes, older adults fall and get hurt. It doesn't necessarily mean it's someone else's fault. However, negligence can play a part in injuries and death among the elderly community. Intentional misconduct or a lack of necessary care and assistance can lead to your loved one's injuries. If you believe they were the victim of abuse, you should contact Jurewitz Law Group Injury & Accident Lawyers so we can start working on the case.
Common Causes of Elder Abuse
Abuse is common in nursing homes and similar facilities. According to statistics, one in six people at least 60 years of age experienced some type of abuse in 2020 or 2021 in a community setting.
A range of contributing factors can cause a caregiver to abuse an older adult. The most common include:
Inexperience – If someone doesn't have the necessary experience to care for an elderly person, mistakes can happen. The caregiver might administer the incorrect dose of a medication or fail to notice signs of a medical condition that require immediate treatment.
Negligent hiring – Nursing homes and other assisted living facilities should have qualified staff members to provide assistance and care to the residents. If the owner of one of these facilities knowingly hires someone without the proper licensing or a history of violence, patients are at risk of serious harm.
Lack of training – Every employee in a nursing home must undergo training on the obligations and duties they must uphold. They should understand protocols and what to do in an emergency. Inadequate training prevents staff members from knowing how to handle an unruly patient or treat an injury.
Understaffed facility – Many nursing homes don't have enough staff to care for all the residents. Errors could occur when nurses and other employees have busy schedules and not enough time to check on every patient. An immobile patient could develop bedsores if a nurse forgets to turn them over or if they spend hours in a wheelchair unattended.
Underpaid staff – Some employees believe they don't receive enough pay for the work they do. When staff feel unappreciated, they might take out their frustration on an older adult or ignore their responsibilities.
If your loved one's injury resulted from any of these factors, let Jurewitz Law Group Injury & Accident Lawyers provide the legal representation they deserve. You won't be alone during this overwhelming experience. We will remain by your side until the end.
Common Injuries in Elder Abuse Cases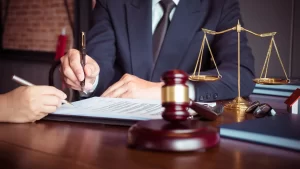 The type of abuse that occurs often determines the injury an older adult sustains. Some injuries can be minor and require minimal medical care to heal, while others are debilitating and cause long-term complications.
The most common types of injuries in elder abuse cases include:
Fractured bones
Bedsores and pressure ulcers
Loss of vision or hearing
Asphyxiation
Paralysis
Infections
Dehydration or malnourishment
Cognitive decline
Broken or missing teeth
Internal bleeding
Traumatic brain injury
Burn injuries
Lacerations
Depression, anxiety, and other mental issues
Spinal cord injuries
Internal bleeding
Treating injuries from elder abuse can be expensive. If you can't afford the medical bills, you could face significant debt. Many people experience financial strain and worry about whether they can get their loved ones the treatment necessary to heal.
You should not have to pay out of pocket for these costs. Jurewitz Law Group Injury & Accident Lawyers will file an insurance claim or lawsuit on your loved one's behalf and aggressively pursue the monetary award necessary to compensate you for the expenses you incur.
Compensation Available for Elder Abuse
Even if your relative sustained a minor injury, they should be entitled to compensation if someone else is at fault. You could file a claim with the negligent party's insurance company for a settlement to cover abuse-related losses, such as:
Loss of enjoyment of life
Medical bills
Out-of-pocket expenses
Pain and suffering
Emotional distress
Damage to personal property
You could also recover punitive damages if you file a lawsuit. To receive this form of compensation, you must provide clear and convincing evidence that the defendant acted with intentional misconduct or gross negligence.
Some incidents of elder abuse are fatal. Coping with the death of a loved one is excruciating. When you're making funeral arrangements and settling your relative's estate, the burden of taking on a case can be too much for you to handle.
If you're the personal representative of the deceased's estate, Jurewitz Law Group Injury & Accident Lawyers can file a wrongful death lawsuit for you. We will seek compensation for your losses, such as:
Loss of the deceased's companionship and protection
Cost of funeral arrangements and medical bills paid by the estate or surviving family
Lost services and support the deceased can no longer provide
Loss of a parent's instruction, guidance, and companionship
The value of lost benefits the deceased could have left as part of their estate if they had survived
Statute of Limitations for Elder Abuse
There is a deadline you must observe if you want to sue the at-fault party for your loved one's injury or death. Florida's statute of limitations allows four years to initiate an elder abuse lawsuit. That means you must file your lawsuit within four years of the date of the incident.
The statute of limitations for wrongful death cases allows two years to file a lawsuit. Instead of initiating your lawsuit within two years of the date of the injury, you must file within two years from the date of your loved one's death.
Contact Us
Jurewitz Law Group Injury & Accident Lawyers have a team of dedicated and experienced Tampa elder abuse attorneys. We know the financial burdens you might face while caring for your loved one and getting them the medical treatment they require. We take cases on contingency, so you're not responsible for upfront fees or costs. We won't collect any of our legal fees unless we secure compensation for you.
If your family member sustained injuries from elder abuse, call Jurewitz Law Group Injury & Accident Lawyers at (813) 605-1100 for your free consultation. With 24/7 availability, you can reach us when you need us the most.