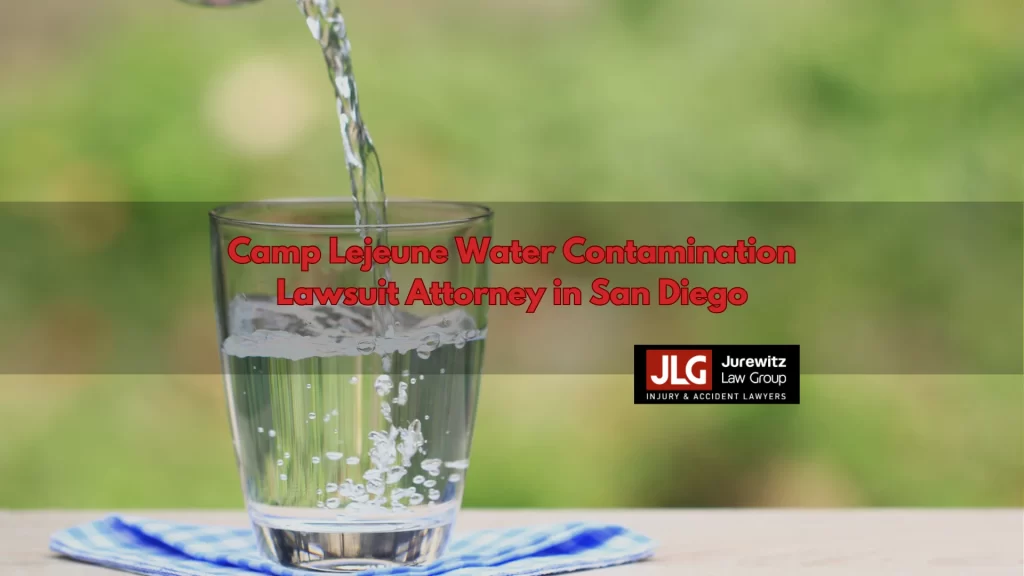 Government testing in the 1980s revealed that the water supply at Marine Corps base Camp Lejeune in Jacksonville, North Carolina, was contaminated with a variety of volatile organic compounds, or VOCs. These synthetic chemicals — which included TCE (trichloroethylene), PCE (perchloroethylene or tetrachloroethylene), vinyl chloride, and benzene — have been linked to a number of serious health conditions, including cancer. The water at Camp Lejeune was contaminated for more than 30 years, beginning in 1953 and ending in the mid to late 1980s.
If you were stationed at Camp Lejeune for at least 30 days between August 1, 1953, and December 31, 1987, and you were later diagnosed with cancer, Parkinson's disease, or another severe health issue you might be entitled to sue the government for medical expenses and other losses that you suffered. A new proposed law, the Camp Lejeune Justice Act of 2022, could make this possible. Sadly, until this bill was introduced, victims of water contamination at Camp Lejeune have had no valid way to hold the government accountable for their negligence during those 30+ years.
At Jurewitz Law Group Injury & Accident Lawyers, we are prepared to take on Camp Lejeune water contamination lawsuits as soon as the bill is signed into law. If you were diagnosed with a serious illness such as cancer, and you believe that the water contamination at Camp Lejeune might be to blame, contact our San Diego attorneys today to discuss your legal rights and options. You can call us at (619) 233-5020 to schedule a free consultation with one of our experienced trial lawyers.
A Brief History of Water Contamination at Camp Lejeune
The water contamination at Camp Lejeune was mostly confined to two water treatment plants: the Tarawa Terrace water treatment facility and the Hadnot Point water treatment facility.
The most highly contaminated wells at the Tarawa Terrace facility were found to contain PCE upon testing in the 1980s. PCE is colorless, allowing it to seep into the water supply virtually unnoticed. PCE is a chemical compound that is commonly used by dry cleaners.
In fact, the source of the contamination at the Tarawa Terrace treatment facility was determined to be a nearby dry cleaning company that failed to properly dispose of its hazardous waste. As a result, this synthetic compound was allowed to seep into the groundwater near the base and then made its way into the drinking water.
The Environmental Protection Agency (EPA) currently permits no more than five ppb (parts per billion) of PCE in drinking water, according to the Agency for Toxic Substances and Disease Registry (ATSDR), but the levels of PCE found at the Tarawa Terrace plant (250 ppb) far exceeded the limit.
The primary chemical found at the Hadnot Point water treatment plant was TCE, though PCE, DCE (dichloroethylene, a TCE degradation product), vinyl chloride, and benzene were all discovered in contaminated wells at the facility. The EPA does not permit more than five ppb of TCE in drinking water. As was the case with PCE at the Tarawa Terrace facility, the levels of TCE found in wells at the Hadnot Point plant were significantly elevated above the EPA's limit. In May 1982, for instance, the level of PCE in the water reached a staggering 1,400 ppb.
The water at the Holcomb Boulevard treatment facility was generally not contaminated, but the water supply in areas served by the Holcomb Boulevard plant was briefly contaminated from January 27 to February 7, 1985, when the Holcomb Boulevard facility was shut down, and water was rerouted into the area from the Hadnot Point facility. The facility also received supplemental water from Hadnot Point at intervals from 1972 to 1985 when demand was high (usually during spring and/or summer).
The water supply was properly tested in the mid-1980s, but, unfortunately, it took the government far too long to take the issue seriously. After testing showed that the drinking water at both the Tarawa Terrace plant and the Hadnot Point plant was affected by contaminants, the most contaminated wells at both plants were retired. This occurred in February 1985, more than three decades after the water contamination began.
Diseases and Health Problems Caused by Camp Lejeune Water Contamination
The four primary VOCs discovered in the water supply at the two Camp Lejeune water treatment facilities have been linked to many serious health conditions, including:
Lung cancer
Breast cancer
Kidney cancer
Liver cancer and liver disease
Ovarian cancer
Bladder cancer
Prostate cancer
Cervical cancer
Esophageal cancer
Parkinson's disease
Renal toxicity
Multiple myeloma
Non-Hodgkin's lymphoma
Leukemia
Birth defects
Miscarriages
Decreased fertility
Neurobehavioral issues
Scleroderma
Hepatic steatosis
If you lived or worked at Camp Lejeune during the aforementioned timeframe and were later diagnosed with one of the above conditions, you might be eligible to pursue a claim against the federal government. You should speak with an attorney to determine whether you qualify.
The Camp Lejeune Justice Act of 2022
The Camp Lejeune Justice Act of 2022 is a bill that is expected to be signed into law in the near future. Until now, individuals who were diagnosed with serious health conditions after being exposed to contaminated water at Camp Lejeune have not had the option to bring a civil lawsuit against the government.
This is because North Carolina has a restrictive statute of repose on lawsuits against polluters. In North Carolina, polluters can only be held liable for negligence for up to ten years after their misconduct first began. Because the water contamination at Camp Lejeune was not discovered for more than 30 years, victims of water contamination at the base have long been time-barred from taking legal action.
However, the new bill will remove that legal barrier, finally allowing veterans, family members, and civilian staff members who worked at the camp to pursue justice through compensation in federal court.
Contact a Camp Lejeune Lawsuit Attorney Today
If you were diagnosed with cancer or another serious illness after being stationed at Camp Lejeune for a period of at least 30 days between August 1, 1953, and December 31, 1987, contact a San Diego Camp Lejeune lawsuit lawyer from Jurewitz Law Group Injury & Accident Lawyers today to find out whether you have a valid case.
Our award-winning attorneys are well-known in San Diego and the surrounding areas for standing up for the legal rights of our clients and for getting them the compensation they need to deal with their injuries in both stand-alone and mass tort cases. Call (619) 233-5020 for a no-risk case evaluation.