Traffic Collision on Interstate 8
SAN DIEGO, CA – According to Caltrans San Diego, a traffic collision occurred yesterday afternoon on Interstate 8. The incident was reported around 4:12 p.m. on I-8 near State Route 163. The collision left the two leftmost lanes completely blocked.
While it's unclear at this time if anyone was injured in the accident, we can confirm that an ambulance was called to the scene.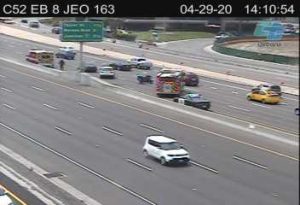 Police are investigating the situation. We will update you when we know more information.
Disclaimer: Many of the accidents we report on are preventable. Our hope is that by publishing information about severe accidents, we can equip readers with the information they need to avoid finding themselves involved in such a tragedy. These stories are painful, but real, as they are sourced from news outlets. Outlets sometimes update their published reports. If information on this blog is outdated or incorrect, please let us know so we can update our posting to the most up-to-date information. These posts do not contain legal advice and should not be construed in such a way.