HomeTestimonialsOrtrisha J.
Miramar Rear End Car Accident Attorney Review: Ortrisha J.
Settlement: $14,000
"Gets the Job Done"
"Besides my settlement, just knowing that my case is finally over makes me feel incredibly happy!
I really appreciated my attorney, Stacey, who worked hard and kept me updated with what happened or didn't happen throughout my case. The constant email and phone communication by their office made me feel like I was actually a part of their office team.
The Jurewitz Law Group gets the job done and I recommend to those looking for an attorney to call them since they would
be impressed by their work as well."
- Ortrisha J.
Spring Valley, CA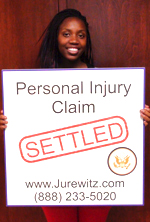 Ortrisha J. was a passenger in a vehicle that was stopped behind other vehicles at a red light. When the light turned green, a garbage truck rear-ended Ortrisha. As a result of the accident, Ortrisha suffered with a concussion, bodily sprains and strains, and vertigo. Although her injury claim was denied on the grounds that the force of the accident was too minor to cause an injury, our legal team received a $10,000 offer and did not settle until Ortrisha was awarded $14,000.