Home About Us Spencer Stein
Spencer Stein
More Attorney Profiles: Ross Jurewitz | Stacey O'Neill | Lee Jurewitz | John W. Greer | Alice Shapiro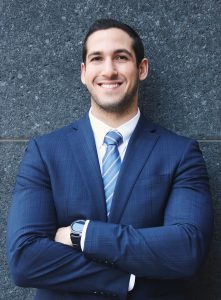 Attorney Spencer Stein received his law degree with cum laude honors from Thomas Jefferson School of Law in San Diego, California. He began his legal career working in criminal defense where he learned valuable trial and legal writing skills.
Spencer joined Jurewitz Law Group in 2019, where he continues to hone those abilities and use them to ensure clients of Jurewitz Law Group get the help and compensation they deserve. Since 2016, Mr. Stein has worked exclusively in personal injury litigation, handling all aspects of a lawsuit up to, and including trial.
He is responsible for successfully drafting and arguing legal motions that lead to fantastic results for his clients. Mr. Stein has successfully negotiated and secured many settlements on behalf of the injured, and his wealth of experience as a young attorney helps him meet the needs of our clients while also fiercely advocating for their interests. In his free time, he enjoys traveling, working out, and spending time at the beach.
A mother and her adult daughter were killed by an inexperienced truck driver.

Award for 38-year-old motorcyclist struck by SUV driver at intersection.

Pedestrian struck by commercial vehicle resulting in wrongful death.
We promise that our clients will not owe a penny if our team fails to obtain any compensation on their behalf.
Learn More